Open House - The Real Estate & Mortgage Show: April 10th 2023
Date Posted: April 12, 2023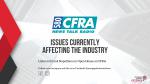 Frank attends a mortgage conference and brings back with him some advice and insights on what was discussed. Frank and Paul discuss what issues need to be fixed in the mortgage and housing industries and what is most likely going to happen.
To listen to the full episode, click here.
Contact your Mortgage Broker today for trusted advice.