Open House - The Real Estate & Mortgage Show: April 17th 2023
Date Posted: April 17, 2023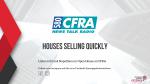 Houses are selling quickly and inventory is currently short, this is indicating a favourable market for sellers. Frank and Paul discuss current inflation, housing, mortgage and economy news and as always answers questions from public callers.
To listen to the full episode, click here.
Contact your Mortgage Broker today for trusted advice.